My precious niece, Chloe Jane, was given her baby blessing today

(like a christening)

and here are some pictures from the luncheon..
Julie

(Aaron's older sister)

with Chloe

(her daughter).
Doesn't Julie look pretty in this picture? :)
Aaron and Brian
(Chloe's dad)
One of my favorite dresses. Very fifties. Goodwill, baby!
Megan kissing cousin Chloe.. We're all crazy about this baby
like I said, we're all crazy about her ;)
Aaron is the only one who has gotten a smiley pic with her.
soo cute :) too bad it's blurry
Just messing around with Karen's Samsung Galaxy S which has a front facing camera. Pretty Slick. From L to R- Karen(Aaron's younger sister), Courtney(niece), me, Jessica(niece)
Karen didn't like that her hair was all pulled back in the previous pic and she looked bald... so I grabbed Courtney's ponytail and put it on top of Karen's head for the next one....
Aaron chillin with the babester.
Didn't I mention previously in this post that we're all crazy? The utter absurdity of the next few pictures should come as no surprise to you, then. BTW- animated gifs are the blog rage ATM. Running almost as rampant as acronyms. I hate acronyms. There are tutorials on how to animate your pictures, but I find it easier to use gickr.com which will do it for you in a few seconds.
(Oh, the little one in this is Chloe's sister, Allyson.)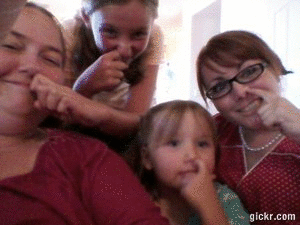 Somehow I died in this one..... don't ask me how. Courtney looks very concerned. Almost as concerned as I was when she was choked chasing a cookie down with water while doing a silly skit today- I really thought she was going to turn blue. She's ok now though. Back to normal. err... if it can be said after this display that any one of us is normal.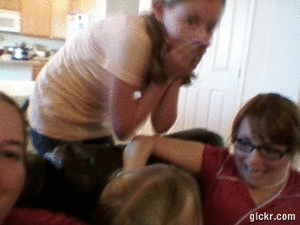 I think I look like Kevin Bacon in that last picture. HA! totally. Speaking of which, he came out of the has-been blue in the new XMEN movie we saw yesterday- it was a decent film. The CGI really stank though. oh man did it stink. Seriously, people? Just wait a month and fix your gliches!