We went to a couple new years parties on Saturday- the pre-party at Betty Thude's and then the Goodman's Chateau party. I think we got home around 4am. We brought my brother Rob and his wife and kids along for the ride since they were visiting us this weekend. There was a rock climbing pillar, a huge obstacle course bouncy thing (that's the official term) and then a regular bounce house, a dance floor, the best DJ ever, and it was catered by our favorite BBQ-
Coopers BBQ
(good friends of ours).
I submitted Aaron's name to sing Van Morrison's Brown-Eyed Girl on Karaoke. I even dedicated it to his green-eyed girls (myself and megan). ha. then of course after he sang, the DJ called me up (at Aaron's behest) to sing Aretha Franklins respect. grr, I had just taken a huge bite of a pulled pork sandwich. boooo! I think I remember punching Aaron in the chest as I passed him on my way up to the front. lol It sounded fine except the words on the screen were not the words that are in the actual song. lame. The karaoke was intermingled with songs for dancing which was pretty awesome since a purely karaoke party is a downer.
There was a freeze dance contest which Aaron and I won. We and our friends Nick & Shelly were the last four on the dance floor after about 25 had been cut and then it was cut down to just Aaron and me so they just called the Shumways the winners since we would've been there all night trying to beat eachother. Us? Competitive? nah......
no, we're not having a who can look stranger competition. this is just us. I swear.
The prize: A Chia Tweety. BOO-YAH!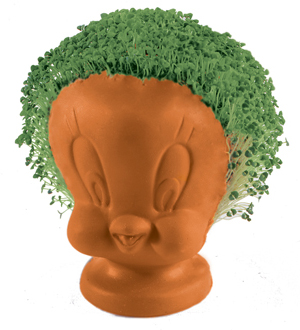 Nothing says "this is gonna be a good year" like winning a Chia Pet.
Here're Megan and me gettin down with our bad selves at the end of the night as the numbers dwindled. I think one of her moves is inspired by jump roping in PE :)
Oh man am I a dork. I look drunk. And no, I wasn't.
Party like it's 1999 y'all!
Our friends, Jon and Courtney Tanner, came to the Chateau party and we gave them a tour (I was one of the original tour guides a couple years ago, remember?) I freaked Courtney out by talking about ghosts staring out the attic windows and Me and Jon ran to the other side of a laundry shoot to freak her out when she looked in the cupboard door.... I love a good scream.
Happy New Year, people. This is gonna be a good one. And if not, MAKE it a good one!